What do you think of when you hear the words' fall'? For me, the word 'fall' brings a lot of emotions to my mind. It's a season that is very cozy and warm. In this season, people get together with each other to get through the long winter days. Things get off to a slower start in summer because people do something together.
As fall approaches, exterior home remodelling activity begins because people want their homes to welcome everything fall has to offer, such as fresh bread baking in an oven, apples being harvested from a tree or a harvest moon one evening outside your window.
The arrival of fall is upon us, which means many of you will be visiting the pumpkin patch, getting lost in corn mazes, or carving jack-o'-lanterns! Whether you're prepping for Halloween or love fall all year round, this article is for you. Let's take a look at some simple fall captions that are sure to get your mind in the spirit of Halloween.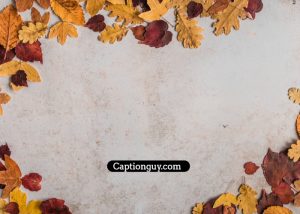 Simple Fall Captions
What's your favorite part about fall #fall #instagram #instagood 🍁
It's all about embracing the simple things this fall. Like the sound of crunching
Spiked cider game. ☕ #itswhatsfordrinking #fall #simplelifehacks
So, this happened… #FirstDayOfFall
Anticipating the Pumpkin Spice Latte season like…🍂
Autumn is here, and so are our new fall drinks. What's yours?
Ah, autumn. The season of pumpkins and leaves and lounging.
Somewhere between comfort and dressy, I'm feeling everything about this look 👗 #ootd
Fall is in the Air. What a great feeling to be out and about once again.
The one thing I love about Fall? Watching the sky catch fire every night.
The world is full of magic things… patiently waiting for our senses to grow sharper. -W.B. Yeats #fall #instamood #instagood
I'm gonna need a lot of pumpkin spice lattes and some new books for fall ☕ #reading #bookstagram #fall
Fall may be all about football and falling leaves, but that's not really my thing. I like to think of it as sweater season. What do you like to do most in the fall?
Back to basics is something of a mission statement at our company—it keeps us on track with what really matters. And right now, it's sharing this fresh fruit salad recipe 🍐🥝
Perfect day for cider & cookies #fbf
Smells like a fresh cup of ☕. And a day off.
Now that the leaves are changing outside, we like to mix up our coffee creations to reflect these seasonal flavors. 😋
Waking up to amber dawn, the heater on full blast. Fall is here.
This is where success and hard work pays off. 🍁☕
Hi there, fall! You look great in this weather. Let's hang out for a while! #Fall #Hiking #Pink #Mug
I'm feeling all the cozy vibes right now. The holidays are upon us which mean it is time to say goodbye to summer and hello to fall! I love the smell of crisp chilly air, wearing sweaters and cuddling up
Karen Walker is the name. Fashion. Icon. I am trying out a new look on my new channel so let's get fresh! 🤗☕️🍵
Fall is rolling in, so get your apple picking on. 🍎🍏🍎
That time of year when there's more than enough to do and more than enough leaves to be raked.
Nothing beats the crisp autumn air. 🍁 🍂
#WhatCouldBeBetter #Fall #cinnamonroll #PSL #icedcoffee
Good morning sunshine ☀ #goodmorning #instagram #morningslikethese
And they don't even have to leave their kitchen to enjoy the flavors of fall.
The sweetest time of year is upon us. 🍂☀
Smells like fresh-roasted coffee and cozy sweaters 💕
Fall is the time of year when you wake up to several inches of cocoa-pebbles-flavoured gummy bears on your lawn.
Maybe the best time of year is November when everything turns to gold.
Life is a series of choices. That's what I've been trying to get through my thick head.
You know you've made it when your grains are making grains.  🍎 #SimpleIngredients #FallIngredients
This is the day of the week to be cozy and smelling of cinnamon and apples, enjoy your fall weekend everyone 😍 #lifewithbubs
Hey, I'm Ina. And this is Food Network's Fall Fest. There's a wide range of fun, easy recipes that you can make in less than an hour.
Warm-up with the season's tasty new iced drinks like Pumpkin Spice Latte and Caramel Cocoa Cluster Frappuccino
Fall is here, and we're ready to spend the next few months celebrating. What will you be doing?
When autumn days are crisp and all you feel is cozy.
Waking up in a beautiful place by the ocean. #myhappyplace #happysunday ##HappySunday
Simply enjoying this weekend.
Back to the bad 🍁 Great Fall Captions for instagram
Hello there gorgeous. Does this view make my eyes look blue? 😍 #simplefallcaptions
If these don't work for you, just post a picture of your favorite coffee drink—particularly Starbucks autumn specials. Here are some readymade hashtags to use with fall captions:
Get your DIY on at the beach with this easy DIY driftwood monogram.
Hello, pumpkin! We're ready to get cozy and weird with you. #Fall #cozy #pumpkin
Wearing my favorite sweater on a pumpkin patch treasure hunt with my little one. 🎃🎃🎃 #nofilter #fall#fun
Let's get cozy 🎃 👻 I always have dreams about her. #StokedforFall  😳
The only thing better than a great pumpkin pie is a homemade one. ❤️
When it's this cold, we can't think of any place we'd rather be than here ❄️🍁 Less than 40 days to go 'till Christmas.
Happy to welcome fall by making #breakfast like this Apple Pie Oatmeal
Fall is a season of simple perfection—like enjoying a warm fire on a brisk day or sipping a pumpkin spice latte on a blanket of fallen leaves. There's nothing quite as blissful as the simplicity of the season.
Me, October ☀️ #autumn #fallisbeautiful
Be thankful for the simple things in life. This is gonna be one cozy season. #fall #campfires #cider
These cozy mornings 🌟capture our favorite season to stay in bed. We'll never skip that second cup ☕️.
Sipping on some cups of fall 🍂🍁☕️
It's beginning to smell a lot like 🍂‼️ ‼️🍂 #fall #autumn #pumpkinseason ##
🍁 A cozy day with one of my favorite girls 🎃 Happy fall!
Fall is my favorite season! The air is crisp, the leaves are changing, and I'm off to my first tailgate of the year. 🍁 @beachbody
It's fall. And that means crisp, clear days and a toasty campfire. What could be better?
There's something about the simplicity of fall—the crisp air, warm gatherings with friends, and hearty meals to keep us cozy. Let's stop for a moment, breathe in the moment, and feel thankful for all that we have
You just look so good in all the fall colors.
🍁Fall is my favorite season, don't you love all the cozy sweaters, the crisp air & the colorful leaves?☀😱
Let the days get shorter and the nights get cooler, and say hello to cozy mornings spent watching the leaves turn.
Cool days will soon give way to the mellow warmth of autumn. We're ready for cooler weather and all that comes with it! 🍂
There's something about the autumn that excites me. I can feel it in my bones, little by little. How are you feeling these days?
Find a sweeter side to your winter with Starbucks Pumpkin Spice Latte. #PumpkinSeason
"It's such a happy thing, to be in the autumn of your life and winter has already begun" -Sylvia Plath
"Lights, camera, action!" 🎬 It's go time. Popcorn not included.
We are so thankful for all of our loyal customers who have joined the Lark fam this year.
Been thinking about this #photooftheday all day. Now, time for Fall. ☀🍁 #SimpleFall #Captions
Can a picture do more than 1000 words? It can. It has the capability that it attracts instant attention, shows a different side to it.
A fall playlist is a must.
Friends! Cozy sweaters! Pumpkin everything! We're loving the smell of fall, are you?
Fall is here, and it's time to wrap up in your favorite blanket, sit by the fire, sip some hot cocoa with extra marshmallows and spend a day watching football.
Cool-weather, cozy scarves, and apple picking. Hard to believe it's already fall! 👍
This fall, warm up with our best America blend yet. #Starbucks #grande
Today's featured #merch: the limited-edition Field Notes notebooks with custom Treehouse artwork. Get them while you can!
Don't you think we should go somewhere out of town because we need some time off… we're dying up here. #🚗
Fall makes me want to cuddle up with those I love and enjoy a glass of wine 😍#instafall
What does fall look like on your farm? 🍁
Let us count the ways we're feeling thankful today—for our amazing customers, for this beautiful season, and for @fabletics 🍁 #thankfulthursday #TGIF #autumn #fall #fabletics
Have you had your pumpkin spice latte yet? ☕
Sure, you could put on pants. Or not. Either way, it's Fall. 😎
Fall is my favorite season. I love the weather, cozy sweaters and boots, and of course cozy drinks like hot chocolate!
Time to put down the stovetop espresso maker, pull out the pour-over cone, and get back to basics. Coming soon to a fall near you. Stay tuned for more news from Starbucks.
Good things come to those who wait…
There's excitement in the air. A crispness to the air. It's that time of year — apple season has arrived and it's time to go apple picking.
Fall is a time for cozy sweaters, scarves, and apple picking. The fresh air feels wonderful! #autumn #fall #blogger #fashionblogger#
Enjoy the season with our fall treats. Where there's a Starbucks, there's a moment to celebrate. #fall #favoritethings
Front porch. Weekend. Coffee. Pretty. Autumn.
We don't know about you but we are excited about fall. 」
It's the most wonderful time of the year. ☀☕🎃
Fall brings us squash, apples, pears, spiced lattes, and sweaters. 🍂🍁☕️
Stay cozy in the dark and cold days ahead 🌲🍂
Enjoy the season of cozy sweaters and crisp, cool days…..
Let's celebrate this just-right weather with a cup of hot cocoa 🍫.
What do you think of when you think fall? Foggy mornings, warm cups of coffee, the changing colors of the leaves…the list goes on. Fall is here and it's beautiful!
The best things about fall: cozy sweaters, warm soup and leaping into leaves–when you're done cleaning up all the fallen ones. 🍁 #fall #hygge
Let us be your ultimate fall resource. From harvest recipes to essentials, we'll have you covered for all things #Fall ❤️🍂♥️
🍁 🍂 🍃 Happy Fall! Here's to sweater weather and leaf- peeping and apple🍏 picking and all the other beautiful things that happen when summertime fades into fall.
Fall makes me want to cuddle up on the couch with a blanket, Netflix, and pumpkin spiced latte. #FallBreak
Ooooh, that crisp autumn air! 🍂🍁
It's here, it's finally here! Let the fall vibes begin.
Let the warm breeze of the approaching fall nip at your toes in these booties with pointed closed toes and a low stacked heel.
Glad that fall is finally here! Now it's time for some pumpkin spiced lattes, warm sweaters and booties, and chilly mornings. Let's go embrace this new season.