Snow has a special effect on people. It brings a smile to their face and a twinkle to their eyes. How does snow affect you? Are you the type of person to revel in a fresh blanket of powder or a person who likes a regular walk to the mailbox, but nothing more? Whatever your reason for being excited for snow to fall, these Instagram captions will have you covered from beginning to end!
Snow Instagram Captions
1. Celebrating what snow brings to the mountains. 🌲 ❄️ #snowsurvivalguide
2. Just how we love our warm and cozy breakfasts. 🥰 #winterfamily #snowfun
3. Skiing makes me happy. The snow does too.
4. Wishing you a very #merryChristmas and a happy #NewYear 🎄 ❤️ #snow
5. Snowdonia is a lovely place for some snow and an even better place for a snowball fight.
6. Just because it's the holidays doesn't mean you have to give up your favorite cold-weather pastime ⛄️ #christmas
7. So much to get done before the first snowflake falls, so much time to enjoy it once it does.
8. Welcome to winter's wonderland.
9. Warm up with signature hot cocoa or a decadent baked good. #winter ☃
10. Santa's sleigh 🎅🏻is loaded with toys for good girls and boys. So make all your dreams come true 💭 this year!
11. Winter is a time of rest and reflection, which you can do inside your fancy igloo that looks out over the, uhm, white stuff. Thanks, plow guy!
12. The biggest snowman ever (according to the internet):
13. *sigh* Here's to dreaming of the endless winter. 💨 #snow
14. Two days before my wedding, and we've already had a few snowflakes roll through. I'll take it.
15. Snow days are the best! What do you want to do on these snowy days?
16. Here's to a few more snow-filled weeks. 🌨 #aprilmayjunejulyaugustseptemberWinterwonderland
17. Welcome, winter.
18. It's the most wonderful time of the year! Happy Holidays everyone. ☃️
19. Winter isn't just for snowcones. This winter, reinvigorate your cocktail routine with these fresh twists on old favorites.
20. What's happening at the North Pole right now? 🎅 #itsbeginningtostickout
21. "It's hard to beat the quiet charm of snow falling soundlessly on the landscape." -Charles
22. D'Ambrosio
23. Let it snow! ☃️
24. Behold the beauty of a winter wonderland 🍒🌲 #holiday
25. Celebrate winter with friends over hot chocolate and our sweet treats. Try some seasonal favorites like Vanilla Bean Creamer, Hot Cocoa Mix, or new Caramel Brulée Latte."
26. So excited for #NationalGingerbreadHouse14 this weekend! How will you decorate yours? #decorations #snowflakes
27. It's the most wonderful time of the year! ❄️☃️
28. Coming home to a sumptuous feast upon returning from the slopes is the best kind of luxury.
29. When you get off work and it's dumping outside.
30. Fall brings a cozy comfort, a delicious harvest of apples and pumpkins, a crispness that glistens. Snow.
31. When you touch snow, it melts—but it also leaves an impression. Make an impression wherever you go.
32. Another layer of the snow puts a layer on my face in the winter. #stpaddysday
33. Let It, Snow. Let it, Snow. Let is Snow. It's beginning to look a lot like Christmas.
34. Wearing snow like a girl wears her hair down. – Unknown
35. I hope it snows in the winter when I'm in California. It would be really pretty to see snow there even once in my lifetime.
36. Come share in the cozy party that is your snowcapped abode. The fireplace's roaring, the logs are crackling, the coffee's freshly brewed, and there are warm wool socks to be worn—glad you could
37. Pure bliss. 🌲 As fresh as a snowflake. ☃.
38. We're dreaming of cozy winter evenings by the fire with marshmallows, books, and hot chocolate. 📚☕
39. 😅 Happy Holidays! So much to be thankful for this year. Can't wait to see what the New Year has in store. 🤞🏻 #newyearsbaby #adventures #happiness #laughs #mem
40. We've fallen in love with the neutrals this season. From endless shades of white to silvers and pastels, nothing says cozy like a monochrome wardrobe 🖤
41. Real flakes of snow are better than any artificial confectionery ones 🌨 .
42. Back to the grind 💪🏻 #snow
43. A #throwbackthursday to our last adventure before the big #snowstorm.
44. *rubs hands together* Let's do this, winter.
45. Crisp Morning Air. The scent of a wood fire in the distance. The promise of a perfect day ahead. Things are about to get real. There's nothing quite like a crisp morning in the mountains to motivate you to pick
46. Spent the whole week at the top of the mountain and still woke up to a foot of freshies on my day off — life isn't fair, is it?
47. Cool your jets, but keep your style. Because all you need is a classic parka and a warm pair of boots to make winter 🥶☀ cool.
48. Does anybody actually like winter? 😜
49. Instant vacation… no packing, no planning, no jet lag. Just add hot chocolate. #wanderlove
50. Let it snow, let it snow, let it snow. ❄ 🎅
51. The only thing better than s'mores are campfires in snow 🎿🍫
52. Once it hits 86 degrees, the snow starts to fall 💨 (or it's winter #Snowpocalypse2017)
53. As I gaze out on the wintry scene, I realize that there probably isn't a better way to capture this moment than on camera.
54. The snow will fall, the earth will shake, and the sky will darken. At this moment, it is already winter hammock time. #winterhammocktime
55. ️ Winter is coming 🌨️
56. Since you can't have a cup of pumpkin spice latte in the winter, we have something that would keep you warm all season long. ☃️
57. It's the most wonderful time of the year, we call it Snowmass, and there's so much to enjoy: hot cocoa and adventures with friends. And don't forget to look up for a dazzling display of
58. Nothing compares to snow. Not even shopping. 🌲
59. When you are searching for the best place to take your kids in winter, try this destination. The snow will make you feel joy. Don't wait anymore! ӏ
60. Hey, it's snowing! Let's go sledding 🎿
61. Fall is my favorite season. The scenery is beautiful, the weather gets cooler and most importantly… there's SNOW! 🌨
62. Holiday Snowflake 🎄❄️☃️
63. Instead of dreaming of a white Christmas, I'll take anyone day in the snow this year #moveforward
64. 🌧️☃️❄️ A cool caption from a nature's beauty product.
65. Holidays are here! Make your home festive with snowflake ornaments ⛄🎄 🕯
66. Waking up to this view is a dream 💫 #travelsnowflake
67. Here's some snow for your hot chocolate. #itsasmallworld
68. To us, winter is a time of wonder and excitement, and we're ready to put on those snow boots & enjoy all that big flakes have to offer…
69. Winter does not frighten me. It is my friend as I walk down the path of life. #winter #captions #wintercaptions
70. Delight in all the magic and wonder of winter. 💫
71. Hello, snow. Here's to hoping for a white Christmas! xoxo #itscoldoutside 😎
72. ⛄️❄️ A winter wonderland
73. Hey, you kind of look like a snowflake. 😉 ❄
74. ❄️☃️ Cheers to hibernation season! Take it easy and enjoy this fluffy time of year.🍏
75. It feels like a good day to do nothing at all. 😮 #luckysnows #saturdaymorning
76. We've been a little wintry ☃️ lately, but the sun is coming back. #sohappyitsFriday
77. Have a great winter, y'all! There's nothing I love more than bundling up in my Canada Goose parka and watching the snowfall ❄️ #winter #snow #instasnow
78. Don't let winter squash your summer fun.👯🍊 #snowday
79. As summer turns to fall, goodbye heat | hello 80 inches of snow 🎿. This is our favorite season.
80. It's the most wonderful time of year…to snuggle up with a warm blanket and a cup of hot chocolate ☃.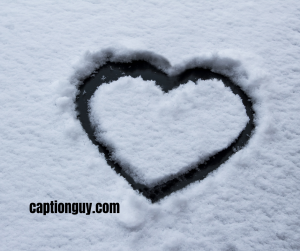 81. Dressed in white. Celebrating each and every little thing.🍂
82. Happy Holidays from Starbucks!
83. The past few days have been colder than anything you could find in Narnia. 😏😎 #winterwonderland ❄️☃️
84. The best things in life are free. Love, laughter, and #wintermagic. 💫
85. I'll be home for Christmas—if only in my dreams. 🎄 #snowtober #winterwonderland #lookslikewinter #therewillbefall
86. That moment when falling snow showers you in a familiar feeling—of being coddled by your surroundings. #franticfriday
87. Throwback to the 'gram filled with posts of cozy winter wear and snowy hikes… 📸: @xxxxxx
88. Someday we'll look back and remember this winter and say "Wow, what a winter we had!"
89. March means the sound of chirping birds, the sight of colorful blooms, and the scents of fresh flowers. It also means snow is on its way 🏔
90. It's the most wonderful time of the year. #HappyHolidays
91. Being warm makes me want to go outside and have fun. But it's so cold outside! Let's pretend we're in a warm place while munching on snacks indoors.
92. Life is still good even if your winter boots need a refill.
93. Happy Holidays to you and yours – lots of love from our ❄️ family! 🎅🏻❤️🌲
94. Something about snow has always was magical, ever since I was a kid.
95. Waking up to a fresh blanket of white is better than coffee. But waking up to a fresh blanket of crunchy flurries? That's even better than both 😎 Happy winter 🌨 .
96. Goggles are just another accessory for this snowboarder ☔🏂
97. Better bundle up, we could wake up to fresh snow ❄️ #FABto5k #35degreesinJanuary
98. Skiing trip with the squad—this ski trip has been serious from day one.
99. Be careful out there! Expect slippery roads and limited visibility due to heavy snowfall.
100. 🌨️ There is something so serene about the quiet stillness of a white landscape.
101. Lace up your hiking boots, pull on your warmest jacket and get out there for some fresh air. #winter #hiking
102. Wrapped in a blanket and chilled to the bone. 🎄
103. It's still not too late to wish for snow #winterwish
104. Real snow. Real staying power. Introducing Blizzard-Proof™ boots, exclusively from Sorel.
105. When you've had so much fun building a snowman, you build another. _#winter #snow #cold #fun
106. Ok, so I got a little carried away with the snowflake emojis 😜 *swipe for more snowflakes* # #
107. Sweaters and boots and Starbucks holiday drinks, oh my! Here's to cozy winter weekends. #BVLGARI
108. Keep your eyes open for snowflakes as you do the same.
109. Feeling a little winter wonderland in my union square ☃️
110. No place I'd rather be than in front of a cozy fireplace 🔥 with my special Sunday night people.
111. Curling up in a hot chocolate on a cold winter day. 😕
112. Everything is better with a friend:) Photo: 📷: @xxxxxxx #iceland #hiking #snow
113. We're wishing on every star for this 🌟to last all year long. ❄️ #SnowDaysAreComing#WishForSnow
114. Have a snow day, you know you deserve it 😎 #SnowDay #snowIsComing #SnowWeather
115. This cold, crisp morning could only mean one thing: Snow! 🌨 We're in for a #winterwonderful weekend.
116. Gentle snow has begun to fall… Let it snow, let it snow, let it snow. #instalove
117. Snow has a way of stacking up memories one on top of the other.
118. Here's to finding your sledding hill, teeing up the perfect snowman, and making memories that will last a lifetime.
119. Feeling cozy today. #lovewinter #winteriscoming #winter #snowing
120. Winter is my favorite season, and not just because of snow! What's your favorite part of the cold season? Sweetheart ✨👑
121. As if it's snowing on this gorgeous summer day here in the city – wishful thinking 🙄.
122. There's no place like home for the holidays. And if your home is here in Summit County, there's
123. no better place to be this winter.
124. Snowflake, you're the one thing I knew I just couldn't live without. 💛 pic.twitter.com/pPANUinT0k
125. Wish I could lay here forever. Dedicated to those who love snow as much as I do 🌧 #winter #wintersnow #winter_snow
126. Take a look at my account for some cool winter-themed photos from the snow
127. Before you know it winter will be here. Join us this #snowmageddon at your local ice rink. 😘 #winteriscoming
128. There is something about the stillness of falling snow that casts a magic spell. It makes everything hushed and tranquil, and it puts life into such a beautiful perspective.
129. Sending up a 💯 for a white Christmas, a rare sight in the Bay. Are you feeling some snow vibes yet?
130. All the more, reason to cocoon this winter …and Netflix and old movies. ❄️😎
131. Now that it's officially winter, the only thing we want on our #TGIFT ☃☕🍩
132. Life is a snow globe… shake it up and see what happens. ❄🌨❣️
133. We're dreaming of a white Christmas 🎄. Merry Christmas and Happy Holidays from Air New Zealand !##