Creative captions for Facebook profile pictures –  You'll find lots of fun captions for your Facebook profile picture here! These playful and funny Facebook captions for photos inspire you, and they inspire others too. It's a nice and fun way to give your details with words. There are tons of funny caption ideas to write funny wordings that express your personality. Get inspired with my latest collection of creative caption ideas.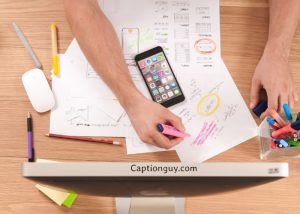 Creative Captions for Facebook Profile Pictures
1. Be grateful for what you have; cherish love; pursue your dreams; honor your past; embrace the present; and look to the future #quote #motivation #inspiration
2. Treat your hair to a pumpkin treat. Daily Fix Extreme Pumpkin is packed with pumpkin oil, pumpkin puree, turmeric root, turmeric extract, and turmeric essential oils to support healthy hair.
3. 🎊 🎉 Happy birthday to you, you're a year older but we're still the same age as last year.
4. Be free and wild,  yet strong and still. Be soft and malleable, yet unrelenting and firm. Bend like a reed, but don't break.
5. Throwing it back to when it was all about the FUN. And PIZZA. #tbt #ThrowbackThursday
6. Fall is here ☀🍂 #pumpkinspiceeverything
7. As we love to say at Starbucks: You can never have too much coffee." # BeAnInsider
8. Now that's more like it. There's still a chill in the air but it's not too chilly to grab some coffee ☕️ on your way to work.
9. Grab the keys to an AMG GT S while you still can.
10. I've been to a few chili cookoffs in my time, but never a chili festival… I think this might be a new record.
11. Sun's out, Buns out! Looking for the perfect caption #funny #best #smileys #emoji #kissing #love #family pic.twitter.com/qnXrOINvv1
12. Oh so chic and oh so you. Perfect for #ootd or #SundayFunday. Looking good, girl — Model is 5'9″ and wearing a size small.
13. If you're handsome enough to be my client, you're handsome enough to legit be my husband.
14. When it's coffee time, it's time for every cup to be the best. Because your coffee says so much about you. So let it be great. ☕
15. The fall breeze 🍁 makes us want to cuddle up by the fire or at a sweet outdoor cafe like
16. It's fall yall! This weekend checks out the best sweaters, boots, jackets, and more all in one place.
17. 🎶🎵I could find my way without a map, follow the stars to find my constellation…❤
18. Don't let your age define who you are.
19. Warm up with a hot ☕ from Starbucks.
20. 🍎 Happy Apple Day 🍏 We're celebrating the season with apples that taste like apples—no artificial flavors or colors.
21. Your prayers have finally been answered. 24-hour pumpkin spice lattes are here. ✔️ #starbucks #psl #pumpkinspice #starbucksforlife #fall
22. It's a crisp fall morning—grow a garden to celebrate. Grow a bounty of carrots and lettuce greens, grow kale and cabbage, grow broccoli and cauliflower. The time is yours to plan a harvest, to take the space you need
23. Are you planning an escape party with your crew? If yes, all you need to do is play this song.
24. Happy Fall Y'all!
25. Because Fall is a time of harvest, and there's nothing more satisfying than filling your basket…or your coffee cup. ☆🍂
26. Time is flying by, so make sure you are being intentional with how you spend it. Every moment of our lives can be made special by how we choose to enjoy them. – Unknown author.
27. Happy Birthday to that person who has a giant heart and a bigger smile.
28. 🍂In the fall, during pumpkin season, I'll drink them all. In the spring, when everything blossoms, I'll only drink decaf. In the winter, some things just warm me up.☘
29. Light up the darkness, and watch the world become a better place. ↗
30. An introvert go-to: some sweets and a cup of tea. Savor the quiet moments. ✔#
31. Fall in love with this blast of pumpkin spice and everything nice… (and your new fall favorites)
32. It's National Pumpkin Cheesecake Day ⏰ #nationalpumpkincheeseday #pumpkincheesecakenumberone #ohmylanta
33. When your cozy morning routine includes a red Starbucks cup, lots of #coffee snuggles, and time to do whatever you want 🕺🏻
34. Discover a world of new flavors in every sip."
35. Hey morning ☀ – new day, new goals, new life #passion #newyou #newday #freshstart #morningmotivation
36. Start your day right with a healthy dose of pre-coffee meditation. #StartYourDayWithABreakfast
37. My favorite season is fall – I love the smell of apples, cinnamon and the crunching of the leaves under my feet. May this be a wonderful season filled with many happy moments. Have a good Fall! ☀🍂
38. 🎅🏻🎅🏻 Wishing you a safe and happy Halloween 🎃
39. It's getting cooler in the North East and what better way to cool off than with a Pumpkin Spice Latte.
40. Time spent with good friends is time well spent—especially when there is a fresh loaf of bread in the kitchen. 😋 #KeepInTouch
41. My name is ______ , and I'm on a personal journey to live my life on purpose, create more space for joy, and share what I learn along the way. '
42. Live each day to its fullest. Embrace each memory. Appreciate your blessings. And most importantly, give thanks for all of the love in my life. I am so incredibly thankful for the love of my amazing husband, my beautiful children,
43. Happy October, everyone. It's the best time of year to pumpkin everything. 🎃
44. No two ways about it – pumpkin spice latte is the official drink of fall. 😍
45. Be yourself everyone else is taken ☺
46. We've taken our most iconic styles and reimagined them with a modern, minimalist sensibility. Let us know which is your favorite. #MichelleObama #StanSmith #SamEdelman
47. That feeling we get on a crisp winter morning, bundled up and ready to face another day. Dreaming of the salted caramel latte.
48. I'm a huge fan of this coffee. It has a perfect blend of flavor and kicks. The taste is memorable, yet balanced.
49. Sometimes the only way to beat the heat is by bundling up. #summer #fall
50. Let us get you started on this crisp and bright morning with our piping hot brew🥤.
51. When you find someone special, you want the world to know. So if you feel like shouting it out, you gotta put a ring on it!  The best things in life are worth getting up early for—the sun, the beach,
52. Camis the new button-up. Shop open-neck button-downs at J.Crew fwds.jcrew.com #Jcrew #FWDS
53. Which do you love more: workout clothes or your gym? 💪🏼
54. We're waking up with fall flavors this September. With Pumpkin Spice Lattes, Caramel Apple Coffee, and brand new Brown Sugar Cold Brew, we're bringing you a taste of something sweet to get your weekend started. Each
55. It's the moment you've all been waiting for…the arrival of fall! 🍁
56. Life has the funny way of coaxing you off your guard, making you think maybe, just maybe, this could be it. And then wham! A fast left hook that lays you out on the canvas.  -Marian Keyes
57. Thankfully the weather is getting cooler so I can finally wear a cute sweater.
58. Hello, old friend! It's me, your alarm clock. Do you know what time it is? Time to get up and work on what you really want to do in life. Wake up to Living an Inspiring Life with Inspiring Quotes.
59. It's not summer if you can't chill under the trees ☀ @wanderlustywhale
60. We're in love with our new coffee cake-flavored cake pops. Try them today in any Starbucks store! #dessert
61. "Give a girl the right shoes, and she can conquer the world" ― Marilyn Monroe
62. Loving the cool fall weather? Us too. ☀ #fallishere
63. This is the season of giving, so treat yourself to a Starbucks gift card to show how much you care. 🎁
64. Bill Murray is the king of the Internet. 😂
65. It's time to get out there and make a splash.
66. Gobble 'til you wobble. 🛠#turkeyday #thanksgiving #dinner 🦃👨‍👧‍👦
67. A fall style update is never complete without adding a pop of color to your nails 💅🏾
68. Today we celebrate those who light up our lives with their friendship, love, and laughter. We're grateful for the time we've been together and hope it lasts forever. Aloha! 🌺
69. Growing up in Colombia, I remember building 'clocks' using the pattern of the sun through the trees over time. Engaging in this meditative practice helped to calm my sometimes anxious mind. My biggest hope is that with yoga, I
70. May your weekend be filled with joyful moments and discoveries that fill your heart and your stories. 😊
71. Be inspired, be brave, be yourself. Now get outside and go climb a tree (or five). 🌲
72. Stay and play and adventure and linger and luxuriate and wonder and wander and gaze and dream and play and stay.
73. When you love someone, their happiness becomes your happiness.
74. Fall has officially arrived (insert autumn emoji here).
75. Happy Hanukkah, Friends! To the Stars and Back.
76. The leaves are changing and the pumpkin spice lattes are flowing. Whatever your favorite fall tradition, we hope you have a happy season. #HappyHolidays
77. Happy fall, everyone! We are excited to welcome back Caramel Apple Spice – my favorite!  Hope you are enjoying the weather. Have a great day!
78. That sweet spot between fall and winter. ❄️ #pb #fall #springsummerwinter
79. It's the little things that matter and give life its charm.
80. How does your garden grow? Fine, we'll take that.
81. We've got a coffee flavor for whatever your fall feelings might be. Tell us yours using the hashtag #ShareYourFall._
82. If there's magic, this is the place. If you don't feel it now, it'll come down and show itself to you. This city and all its glory were meant for you and me. And the people like us.
83. It's a sign of a really great wedding DJ when you can hear a pin drop in a packed, sweaty club
84. There's only one place that gets to decide how you feel today—and that place is called "here."
85. Coffee in hand, you stroll into your neighborhood diner to put up the newspaper. It's Saturday morning. Stay tuned for NBA playoffs games in the next round. Onward and upward with your morning routine–your day is looking pretty
86. If you are looking to create an Instagram caption then be sure to use one of these 35 examples. They are proof that captions don't have to be hard. Let us know how it goes with your caption!
87. Making memories that you won't have to hang upon your wall. 😃 The caption below is a powerful quote, but if you shorten the line a bit, it also sounds perfect for a summer party:
88. Before you know it, cooler temps and pumpkin spice lattes will be here.
89. Good morning ☀️☕️. To-do list: (1) Wake up (2) Make some coffee (3) Stare at my reflection until I can't stand it anymore.
90. December is just around the corner and we're putting that pumpkin spice latte on our holiday wishlist. What's on your wish list?
91. Imagine if milk were brown👉🏽😱😱the world is your oyster 😍
92. There's so much beauty to be seen in the world. Let's go out and see it all 🌎
93. Simply a perfect embodiment of fall ☀🍁
94. Love and acceptance are what we should strive for and what we need more of in times like these.
95. There's something to be said about a cup of coffee in front of a fireplace. 😍
96. Simply a perfect embodiment of fall ☀🍁
97. Love and acceptance are what we should strive for and what we need more of in times like these.