If you are a snowboarder, then you must have at least once dreamed of fulfilling your dream in the snowboarding arena. This is a wonderful idea. There are numerous ways through which you can achieve your goal and become successful professional players.
Snowboarding is one of those things that if you don't hate, then you must love it. It's a wild ride on the snow that gives you a thrill, unlike many other sports. Speed, adrenaline, and free-flowing joy are only part of the picture. There's a whole lot more to it, and everyone who loves snowboarding can tell you in great detail about their experience.
Snowboarding Captions
1. Good snow, good vibes, good friends. 🎿🌲 Catch some this weekend; it's only going to get better… with 2 more inches coming! #nothaca #mountainlife
2. I love snowboarding because it's something we can't control — we just go with the flow. #stumptuous
3. I'd rather be snowboarding. – Jeremy Jones
4. Looking for a better angle in the streets? Check out our new line of backpacks and harnesses, only at #snowboardwarehouse! Now boarding…
5. Summer's over but we're about to get this end-of-season shred on one last time.
6. It's winter in the mountains. All we want to do is escape, drink hot chocolate and go snowboarding.
7. I don't know why we celebrities always go to the mountains to shoot movies. It would be so much cheaper to make those rebel movies in Hollywood.
8. Stoked that @xxxxxxxxxxxx is sending @xxxxxxxxxx on an exploratory mission to the Sierra
9. Do you like to ride in fresh powder snaking down a mountain or on a big mountain slope?
10. Feel the exhilaration of speed and movement underfoot as you board down the mountain.
11. Sunset carves are lit. 🌇 Copy of photo or image: One advantage of an archetypal "New York" postcard is that people are used to seeing this scene and can immediately process it.
12. Ah, the great outdoors. Posted by A snowboarding company on Sept. 13, 2016, at 6:56 pm PDT
13. Getting steezy with it at #Snowbasin 📸 @xxxxxxxxx
14. Shred hard and shine bright. Always remember that snow is good.
15. That moment when you're so proud to be a Canadian on the biggest stage in the world @xxxxxxxxxxxx #GoCanadaGo @xxxxxxxxxxxxxxx #wearedonovan #olympics #PyeongChang2018 #team
16. Hey Winter, why don't ya' just leave us alone already?! 😏 🏂 #ssk8
17. Get to know the sport by clicking on the link in our bio.
18. Busting out of that winter weather. The time has come to shred the gnar. ✔
19. Winter is back. Let the fresh snow hit you!
20. Let's go shred!
21. Whether you're catching air 💨 or hiking 🏞, the best days are the ones spent outside.
22. This fall's bringing snowflakes, endless trails, and an all-new way to shred with GoPro.
23. Snowboarders who post on Instagram spend more time on their phones than their boards. Really!!!!!!!!!
24. When it snows, get out there and shred. This is the time of year to be playful with your snowboarding. Make sure you're wearing a helmet and gloves!
25. When the snow is deep and the trench is steep, get out there and have some fun. Embrace what you do. #gooutsideandplay
26. Black Friday is a free ride pass at your favorite ski resorts. Make it happen. 🏂
27. Life is a thrill! Go ride waves, mountains, and wakes. You will never want to slow down.
28. When the sun goes down and snowfalls, it's time to get out and enjoy pristine turns all night long.
29. What's going on this weekend? Mount Everest in a blazer? #☃️
30. Capture the moment, live in the now, 'cause those are some beautiful photographs, bro. 📸
31. New tricks, new friends, and new shred goals 🏂
32. There's nothing quite like the feeling of flying down a mountain on fresh powder ✨ #snowboarding
33. ◆◆◆ When you're about to drop into that last fun run of the day for a quick sunset session. #snowboarding #freshtracks
34. I need to go on a snowboarding trip. So fresh.
35. You know you're a snowboarder if…
36. Let the mountain know that you're coming. So grab your gear, your friends, and some snowboard wax, and head up to the clouds to get after it.
37. So much fun shredding the pow 🏂 at #SkiParadiseVT! *Splitboarder, snowboarder, backcountry traveler, and mother of 3.
38. Life is too short for crappy snow.
39. We're pumped that there is an entire season dedicated to simply riding the mountain and exploring all the possibilities. Bring on winter.
40. Going bigger, better, and badder with the all-new Ollie model, now available at select authorized retailers. #letsmountaintothemountaintop
41. Laying down smooth carves in the softest snow of the season. 🏂
42. A photo of a person on a snowboard on a sunny day
43. Take flight. #SkiAndSnowboard
44. Powderhounds, shredding the slopes, hitting rails, and riding big airs—that's what it takes to have a flawless @wolfpack.trip day on the mountain. . . . . #WolfpackTrip #adventure
45. If you don't jump when it's your turn, you don't even deserve to be here. #snowflake
46. Air it out in the powder.
47. Sending it 👌. ⛷. Whatever you're doing, that looks rad AF. Now, what's next…
48. Yvon Chouinard is a climber, surfer, environmentalist, and co-founder of the Patagonia clothing company. He wrote that "thousands of excellent opportunities are lost every year because people's time and energy are taken
49. We still got snow 🌨☔️
50. It's the time of year to play hard, work smart, and be inspired. Here's to a great winter!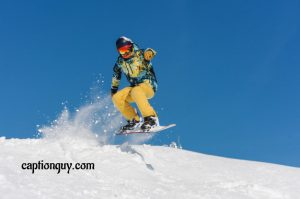 51. Let winter be a time for celebrating life, not fearing death. Happy snowboarding!
52. It's December. Time to bust out the snowboards and grab some pow 👊
53. We put in work to plan our day, but you get the credit for making it through. Thanks for always taking one for the team. #happysnowboardingday
54. As a fan of the outdoors, I don't shave as often as I could. Instead, I've embraced my scruff and wintry clothing to be comfortable while snowboarding in the great outdoors.
55. You can only have so much fun in the summer. Time to start boarding some powder 😎
56. Let it snow, let it snow, let it snow… ✔️ #winterwonderland #snowday
57. Soar down the slopes 🏂
58. It's always a good time for a snow day. #staytaytuned 🎿🗻
59. A post shared by Jackson Van De Voorde (@xxxxxxxxxxxxx on Aug 17, 2018 at 9:48am PDT
60. Well, I guess it's pretty much my happy place, you know? It's where I dig my heels in and know that I'm exactly where I should be. It's the look on a child's face when they ride down their first hill
61. Whether it's an early morning pow session or deep powder in the afternoon, nothing beats a fresh snowfall. 
62. With a million miles of powdery fresh snowfall each year, the J2 mountain range is where you will find some of the most mind-bending fun runs on earth.
63. Feels like we live in a #snowglobe 👮🏼‍♀️☃☔🌂
64. A product named S'well aims to create a feeling of cool and fun.
65. Think you can handle the UPPER BACKCOUNTRY? #snowdays 🎿🏂🔨
66. We Want to be the Champion of Adventure. #GoPro2017
67. Fresh tracks make me feel like a kid again, that's when I know it's time for winter. the best days in life are the ones lived on your toes to give you the ability to enjoy every challenge! #nomad
68. I've been waiting for you. ______ #boardshort quote
69. Wishing for snow and waiting for snow are two very different things. Thankfully, you can still throw down on a #snowday with @xxxxxxxxxxxxx. So let the good times roll ⛸ #bollandsnowboards
70. So stoked to finally arrive on the east coast 🎿😏 #starbucks #snowboarding
71. We don't take ourselves too seriously, just our snowboard gear. It keeps us free and together while enjoying the simple things in life by listening to the sound of a mountain.
72. Pop a 🏂 on your feet and head to the snow. There's no better time.
73. There's no place like the snow–unless you're behind its wheel.
74. There is nothing like the feeling of riding a fresh powder day!
76. Christmas in the snow, you really can't beat it. 🏂
77. It's a good day to ride.
78. We are excited to announce the 2017 Whitelines Transfer Collection! We hope you enjoy these new shapes as much as we did while designing them. -ADAM & BEN
79. Because winter isn't done with us yet, grab a hot cocoa and get back up on that
80. Falling in love with the kickback feeling of snowboarding. I just can't stop smiling. Summer vacations will never be the same again.
81. Separation anxiety is upon me, but there's an upside! 8 feet of fresh pow. Can't wait to ride on Sunday! #snowboarding #wintersurfing
82. Time to dust off the park pass and grab one last snowboard this season.
83. Shredding tonight with @xxxxxxxxx. Winter storm Jonas is bringing 🌨☔️… #snowboard #winterstormjonas #staystoked
84. This is the Winter We've been waiting for all year, Let's Go Ride Some Snow !!!
85. Snow 'n' nobody 👮‍♂️ 🧠 #WorthIt
86. Behold, cabin-fever fighters. These 10 jackets are so warm they'll make you want to slip 'em on for your morning commute—no thermals required.
87. You don't have to go far to find fresh powder. A lot of the time, the powder is right where you're standing. 😎
88. Spectacular scenery, cool weather, fresh snow. We could picture this on a postcard.
89. There's a feeling you get when you're in the mountains and get that perfect view and that rush of adventure, that's what this is all about.
90. Taking full advantage of our lightest, softest Burton snowboard ever. #POWERSEATZ
91. Everything feels fresh after a good day on the slopes. 🌈
92. How to Make an Irresistible Instagram Caption (Part 1 of 3) "I've been busy making captions—wait, what does that mean? I used it with the word 'buttons.' You see?
93. Feels so good when you get away in the trees, the pow, and the deep powder.
94. Have a Blast! Hope everyone is enjoying some great fresh snow with the first storm of the year here in Utah.
95. So, I've been watching the Olympics and…I think I get it now.
96. It's a blizzard outside but, 5 layers deep on the inside.
97. I'm in the mood to ride Hunny.
98. When you're looking for adventure, you need the only lookup. Sign up today. 🌟
99. It's ok if you fall on your first day because everyone else did too. Just get up and keep going. 🏂
100. How do you find flow on the mountain? For me, it's through fundamentals. Stay humble and work hard, because you can always get better. 🌨 #backlinks #backlinkgenerator #backlinkservice #backlinksfree
101. Life is good when you're free, and this season, we want to celebrate the freedom of snowboarding. ##
102. Compete like you're on the slopes: hungry, fast, and fearless.
103. There's a first time for everything, and today was my first time on a snowboard. Goin up (❄️), getting down (🏂). 'cause I'm going to live like tomorrow doesn't exist. _ #winter #snowboarding #lakelanganapark
104. Get into this season with a fresh powder of new gear, freestyle lines begging to be ridden…and a coffee date.
105. It's a good time to be cozy. #SnowBae
106. The perfect time to #planatrip with the fam and enjoy the thrills of winter. #dynamicmountaindreams
107. The mountain is calling, and I must go. – John Muir Something about holding onto the days gone by, while looking ahead to bright future on the horizon captions
108. Red Bull, I could have done that!
109. Buckle up 🤸‍♂️. It's going to be a fun ride.
110. Snowboarding is a stress reliever for me. The sensation of flying down a mountain, testing your skills against gravity, and staring at the powdered landscape through crystal clear goggles is freeing for me.
111. There's snow on the mountain! That means it's time to get down to some serious #Snowboarden 🏂
112. Time and space on a snowboard, the art of doing nothing or nearly nothing—it's the ultimate vacation.
113. Time to hit the slopes. : @xxxxxxxxxxxxxx
114. Throwback to that amazing day on the slopes. 🎿
115. It's time we start paying attention to the snowflake. The snowflake that gets all our attention, the one that inevitably disappears beneath our boots as we rush to another destination.
116. Loving this time of year when we can wear our new outerwear to warm-ups. #stoked
117. Self-proclaimed cardigan enthusiast, occasional biker of no-speed-limit interstate highways, and aspiring citizen of the world.
118. No better feeling than cold fresh air and a warm hot chocolate. Get stoked: winter's here. _/|\_
119. Pathway to Fairy Lake: green 💚, blue 🌩️, black 🌰. (2016 Olympic Winter Games bid slogan "Pathway to Fairy Lake")