Cats with captions are one of the greatest things that can happen in this life. Cats are important for our mental health, and what better way to help them than give them quotes about wisdom and other deep stuff?
Cats are funny. Isn't it amazing how cats can just sit there and relax like they own the place? Although, of course, we understand that they have a secret agenda of world domination every time they are laying around the house. But for now, let's enjoy their antics with cute captions!
Cats can be really adorable and make us laugh. The caption cats are used is also a funny thing. There are many kinds of captions for your cats. If you love a lot to see cute pictures of the cat, you will definitely love our post on the best Instagram captions for cat lovers.
Cats With Captions
Whenever I go on a walk outside, my cat Baba-Boo keeps me company.
Excuse me while I indulge in some 'me time. #crazycatlady
Meow 😻
This cat should always be on holiday.
All the cool cats are on Twitter.
All dressed up today and feeling feline great.
Don't worry; you're purr-fect the way you are. #meaningfulcatphoto
Love your cat because every life is precious #catlady #catsofinstagram
Every day is Purrrfectly perfect day to play with your kitties 🙋🏼
We belong together like… #blessed #happycats #caturday
Like sweet velvet paws. ❤👯‍♀️
Giving you all your favourite things in one place. 🐱😸💕
If you love cats as much as we do, this one's for you!
You know you are a crazy cat person when …
I'm a silly boy and oh so adorable! 😻
Today I'm thankful for my owner, who loves me and sometimes baths me.
Let's face it, being held in your arms is way better than being held in anyone else's.
When you think about it, big cat = big yarn. 🍄 🙂
if you are lucky, life will put you in the path of amazing people who will change your life just by being part of it
Soft downy fur. Long whiskers. Big love of sleeping. Buddy is content with life.  ☺
Everything about this photo is perfect.
Real cats don't meow; they explode with great fury.
Pawsitively purr-fect. – Cute cat
What to do when you run out of catnip…😆
Rain, rain, beautiful rain… #meow #Rain 😘
Be extra cute, extra wild, extra crazy, and extra silly #catswithcaptions
Life is like a box of kittens. You never know what you're going to get. #meow #cats
Mama is just purr-fect.
Finally, it feels like a cat video.
Enjoying the simpler things in life #catsandbooks
I may not accomplish everything on my to-do list today, but I will nap near it. – Unknown
You're the cat's meow. But, um, could you like… live somewhere else?
Don't look down on anyone — even if he looks up to you.
Nothing beats a long weekend. Cats just like you.
For when you're not sure if it's a snack or a meal.  😻 #meow
Good morning sunshine!… Whether it's 7 am or 7 pm, your cats are ready to conquer the day with you. Are you? #meow!
Whatever you do this weekend, spend some quality time with your cat. 👩‍🦲
You are a bundle of clever ended up being #1 in the world and overthrew the cat.
Finding new adventures and new ways to love you is just my way of saying I love you. ❤️ #caturday
Your cat is calling. #sheltercats #adoptlocal
If you sit very still while pretending to be a cat, I promise not to bother you.
Your friendly neighbourhood cat is just offering a helping hand. 😹
The secret to happiness is pawsome friends.
If you are a cat owner, then you know that nothing makes life better than cat cuddles. #happycat
Music Monday! Dance like nobody's watching xoxo #meow.
A black cat, as old as time.
Going to start making this my go-to hangout spot. 😻😻 #caturday
"They say cats always land on their feet… I've never seen a cat do a handstand." ― Shel Silverstein #cats.
What good is a day without cats 🐱
Every day is perfect for catnip and cuddles. 😻
Your strength is my Kryptonite. My weakness is your cute little paws.
It's not purr-fect, but it is purr-fectly fun. Our favourite things in life may be free, but they are far from easy. #LifeIsGood
#Caturday – it's natural for kitties to break the boundaries between life and death. After all, some of us have nine lives.
I love you so much. I hope you like the nice warm bed I made for you. Sleep well and be safe.
Cats have the right idea. It's a lot easier to sit around until you get a pet.
If You Look Up Cat, The Universe Will Smile Back At You.
And this is why cats are better than people: They quietly give love to anyone who dares to approach them. 🐱
Let's be honest here – the Internet is like a catnip for us.
Few things make me happier than snuggling up with my cat.  🐱
♥︎"I'm a cat. I sneeze on hands for attention." 🐱
Lazy, crazy, busy. We're looking for a cat that characterizes our workday.
You're not a cat lover…until you've owned one.
Sometimes there are those days where you want to be comforted by your kitten. #catsofInstagram
Getting fluffy with my bae for #internationalcatday 🐱
Meow, we're in love with this grass.
Ain't nothing like waking up to a sunny day and some cuddles from my human.
What do you get for the cat who has everything?
Kitten season is in full swing.
Some people may think cats are aloof, but they're just busy.
When you're up to your eyes, nose and ears in tasks and the only outlet you have left is your cat.
Cats are curious creatures. Cats are intuitive, primal creatures.
One of my favourite pictures. Looks like these cats are saying, "We will get you if we have to stay on this train all night!"
The more I see of the world, the better I like my cat. -Mark Twain #cats
Never underestimate the power of the purr.
Need a cat in my life.
I've been called a cat lady. I hug a lot of cats, and they all purr.
Meowy happy #nationalcatday to all our lovely feline friends!
Such silly pants. You've earned your crazy cat lady status. 🐱👸
Best of friends, meow. #besties
It makes me happy when my cats🐱🦜 spend time with me!
I'm a cat. I'll sleep when I'm dead. 😴
Happy sunshine is a happy kitty.
Cats know it's time to go to bed when you walk towards the bedrooms with a flashlight. 😸
Kittens, kittens and more kittens. Life is so much better with pets in it!
They are all like you and me: wandering souls who need love to live.
You know you've reached a serious level of cat ownership when people think they are your children.
Isn't it obvious? Meow. Isn't it obvious? #catsofinstagram
Pies and cats have at least one thing in common: filling.
Life is a serious business for the cat. It's his business to be serious about. ~Mark Twain
Cats in 🐱 emoji outfits, as cute as can be!
Get inspired this weekend to make your home perfect for you and your kitties.
Is there anything more delightful than a cat nap? We think not. 💤
The nameless cat said, "If you do not believe in me, how can I believe in you?"
I am a fluffy banana if you like my haircut. 🐈
No one saves unless it's a meme.
My best friend is a cat ❤️ #cattitude.
Dogs can smell fear. But cats can smell the weather.
Aw, meow. Cats spreading love
Baby, It's Purr-fect Outside.
Catio? More like cat-a-tat.
Lightning fast and so cute. Pure 🐾
Maybe this is the reason they call it catnip.
Rise and Shine. Snooze. This cat bed is perfect for bouts of feline nap time, followed by afternoon feats of acrobatic prowess.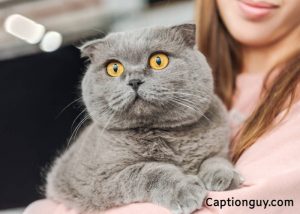 Enjoy every moment ♥️👑 #meow.
My personality is better than yours.
Purr-sonal touch: Every couple of years, the Queen has all of her cats' claws removed. #nationalcatday
You purr, you cuddle, you are soft to the touch. Refreshing and Zesty.
I am finally content to be someone else's cat #cat_memories
A cat in a box is worth two in the can 🐱 #meow
When the best part of your coffee isn't the coffee ☕ #catsofinstagram #catsoninstagram
Just Chillin'… With my Frosty Paws 🍩 👍 😻
What are Fluffy's thoughts on this? I've got to know!
I'm going to miss you while you're at work.
I found your crown!  But you can keep wearing my purple cape because with a pair of sunglasses like yours, you know the world is yours ☺" ~ Me #🐱
It's getting real in here!!! Haha
Awww, who doesn't love a sleeping cat?
Hi, I'm a cat. But you already knew that because you can read. Meeting your cats face-to-face is a very special moment since watching cat videos online can be super addicting. It is not every day that we
Cats. Just cats. #caturday
Wake me up, before you go. I'm rather a yawn, meow. And shout it out, say it out loud. Love more, tweet less. – The Meowettes
Bye, Felicia. #meow
I work hard, play hard, eat hard—I'm a real hard cat.
In a house, there is a cat.
Meow! It's Friday! Go out there and join in the fun as it's a great day to be alive ☁️🎉 Good morning, Happy Friday everyone.
This cat thinks she's a Bat.
Hey, you. Yes, you. You look like you need a rest. Here are some cute cats to make you smile. 😻
Our cats are getting so big! 😻 #mybeautifulboys
Of all the people I've met in my life, you're one of them. #meow
Meow!
They say a picture is worth a thousand words, but this one speaks volumes.
When you're just like, "Okay, if that's how it's gonna be." 😶
Just when I thought I couldn't possibly be any more in love with these two bottle kittens. ❤️👸🏽
♫ I'll let you in my small little world that's full of yarn and stuffed animals. ♫
Your cat knows where to sleep.
Being a house cat definitely has its benefits…
It's a very good day to be a kitten.
Baby cats are the cutest ever…
Can't a cat just have a day off?
I like when you sleep, I like when you're awake #caturday #cat #catsofinstagram
One good thing about the night… there's always a kitten around. #catstagram
"It's okay to be a cat lady"
Cats are essential to living a good life.
Every cat deserves the space to indulge in a pawsome daydream. . .
Cats are awesome, funny and cute little creatures
A feline's purr is a song for contentment.
Making all my pet-parenting friends envious right now 😻 #catsofinstagram
Cats who like things
Me-ow! 🐱😺 #funnypicture
Aww, this is the best part of my day! *❤️*  😻
I know it's hard to believe, but I'm really not this grumpy. #Caturday
The only way to a cat's heart is through its stomach. Noms, please.
Life is better when shared with cats.
Life is purrfect 😸
My neighbours let me hang out with them for the weekend while they were away. I couldn't have asked for a better house sitter!
Hey you! How's it going? I'm getting my beauty sleep. It's been forever, right? * 😺 #catsofinstagram
What counts is not necessarily the size of the cat in the fight, but the size of the fight in the cat.
I know we've only just met but I think this could be the beginning of a beautiful friendship.
This one's Meow-dorable.
That time you looked at the floor and said hello to a friend. #purrrr
I'm cute and adorable and I don't need anyone… 😻